Secure Hosted File Synchronisation and Sharing Solution
Save9 FileSync & Share is a professional easy-to-use file sync and share solution that delivers users anytime and anywhere secure access to files, across any device, be it smartphone, tablet, laptop or desktop computer, or on the web from any web browser. It is the ideal mobile workforce solution in scenarios where end-users are occasionally off-line but demand auto-file-synchronisation when internet connections are resumed.
Defeat ransomware and lower the risk of being locked out of your files forever – by guaranteeing custom or unlimited retention periods for any deleted files and file revisions. With bulk, point-in-time restores, you can return to a moment-in-time when you need to access all your files in their original state.
Save9 FileSync & Share's unique file server enablement feature allows you to take existing in-house legacy Windows file servers and immediately cloud-enable your data (on-premise edition – Server Enablement and Mapped Drive Add-on).
Save9 FileSync & Share provides high-levels of security such as complete end-to-end data encryption (minimum AES 256-bit standard for encryption in-transit and at-rest or choose much higher 448-bit Blowfish encryption with 2-factor authentication for even greater security), persistent and transient encryption key modes on the server, secure file sharing with guest users, Active Directory and Outlook integration, hierarchical policy enforcement, custom deleted file retention periods and remote wipe of lost devices.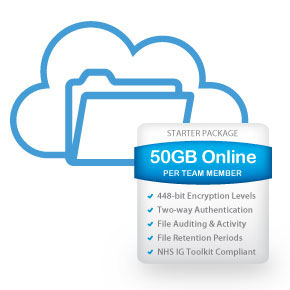 FileSync Storage and Bandwidth Reporting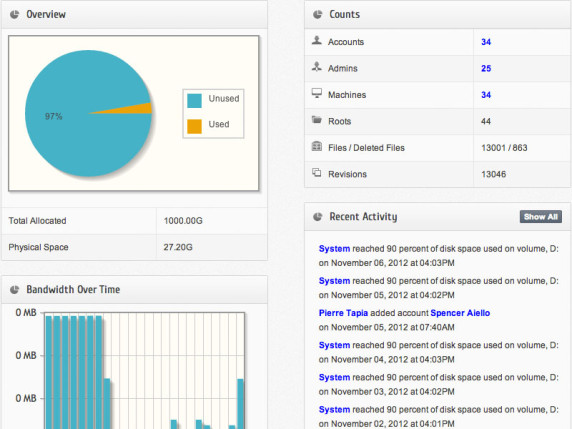 Top-level reporting with drill-down results gives at-a-glance bandwidth (which can be throttled as a consequence if users are negatively impacting on your bandwidth), team and individual data storage usage and recent activity data.
Powerful File Server Admin Functions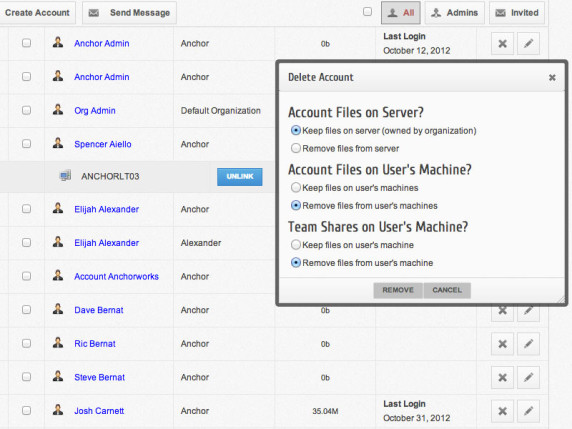 Powerful administration functions allow you to quickly delete accounts, server files and/or remotely stored files on a user's device in an emergency. With infinite revision capture your IT Administrator can restore deleted or changed files from as far back as you need.
Detailed Activity Logs for Auditing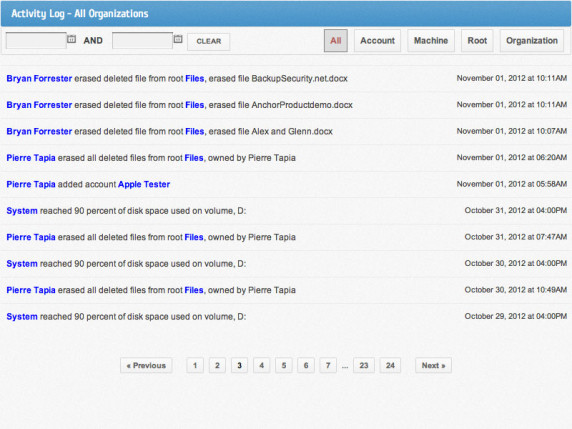 A sophisticated audit history (Activity Log) tracks all key metrics you need to measure – e.g. file deletions and quota storage space used.
Enterprise-level Features
Business-grade file synchronisation and sharing
Secure file access from anywhere, across multiple devices
Cloud-enable existing file servers (File Server Enablement for on-premise edition)
Support for Windows, OS X, iOS, Android, and Windows Phone
Secure and easy sharing
Public share links for sharing of large files
Team share folders for internal collaboration
Secure share links and enforced credentials for secure, external collaboration
Lock files from editing
Outlook plug-in for file sharing within Outlook
Password enforcement on shares
Expiration date policies
Download limit policies
Notifications on downloads
Personalised messages when sharing
Backup and restore features
Continuous, real-time backup of files and folders
Local directory backup (Documents, Desktop, Pictures, etc.)
Custom or unlimited retention periods for deleted files and file revisions
Bulk, point-in-time restores
Administrative features and integration options
Comprehensive usage reports and activity logs
File type exclusion
Customisable email templates for onboarding
Agent and organisational bandwidth throttling
Remote wipes of desktops and devices
Granular user access and security controls
Active Directory (AD) integration
Two-factor authentication
Compliant data centres and military-grade encryption
SSAE 16 Type II or SOC Certified
99.999% uptime cloud service-level agreement (SLA)
99.999% reliability, translating to less than 5 minutes average downtime per year
Silent Data Corruption Protection, end-to-end checksums to "tag" data with strongly verifiable identifiers
HTTPS stand-alone processes running behind a firewall
Persistent and transient encryption key
Organisational privacy mode
Data transferred over Secure Sockets Layer (SSL) encrypted connections
Server Side Encryption (SSE), using 256-bit Advanced Encryption Standard (256-bit AES) of data in transit and at rest
Take control of your organisation's data
Save9 FileSync & Share gives administrators total control over their organisation's data. A comprehensive dashboard, rich reporting and granular controls makes it easy to manage an entire instance of Save9 FileSync & Share. Coupled with military-grade encryption, custom or unlimited retention, remote wipes, continuous backups and rapid restores, Save9 FileSync & Share sets the standard for enterprise-grade file sync.
In summary – the benefits of free-to-use or mass-market file sync technologies are great, but these consumer-grade file sync services are not appropriate for the professional workplace or where information security and data confidentiality is of the utmost importance. Therefore, it is imperative that organisations adopt a business-grade file sync solution – such as Save9 FileSync & Share – that is both easy to use and very secure.