Wi-Fi Network Solutions from Save9
Fast, secure and scalable Wi-Fi for your organisation and visitors
Wi-Fi has become a ubiquitous service that internet users want in every aspect of their lives. With more and more laptop and smartphone users vying for space on crowded networks and many depending on reliable wi-fi for important aspects of their daily life - wireless technologies have had to evolve.
The financial, healthcare and local government sectors demand higher levels of network security - Save9 provides wi-fi security to these customers via the Advanced Encryption Standard (AES-256) to scramble transmitted information as meaningless data, until it reaches its destination. For extra peace of mind we deploy identity safeguards such as RADIUS authentication (WPA2-Enterprise with 802.1X authentication) for securely authenticating every wireless login on your network against your organisation's on-site Active Directory server.
To surpass the performance and security of wired networks Save9 offers the 802.11ac wi-fi networking standard. Save9 customers benefit from a more reliable wireless network - where network performance is never compromised - achieving reduced interference and a better internet access experience, something that you need and expect.
Wi-Fi Hotspots
Save9 installs and maintains outdoor and indoor wi-fi hotspots across the UK - deploying private and public wireless networking in Healthcare institutions, Local Government offices, Sports Venues, Hotels and Leisure sites.
Hotel and Leisure Wi-Fi
The hospitality industry includes a vast array of businesses including hotels, guest houses, B&Bs, caravan parks, leisure centres, conference venues, café's, bars, restaurants and waiting areas. These businesses are striving to deliver superior levels of customer service throughout every part of their organisation and to deliver services their competitors don't. With the increase in use of smartphone devices and the increase in people holidaying in the UK the demand from business and leisure guests is for reliable, high-speed Internet and Wireless access. Save9's wireless hospitality solutions are perfect for this very situation.
Healthcare Wi-Fi
Wi-Fi has become a vital IT service for both clinical and administrative users in almost every aspect of patient care. Healthcare professionals depend upon readily available patient information as part of their daily routine - so the wireless technology available from Save9 has been adapted to offer fast and very-secure (NHS IG Toolkit compliant) roaming network access that our health service professionals need to deliver improved patient care services.
802.11ac Migration Challenge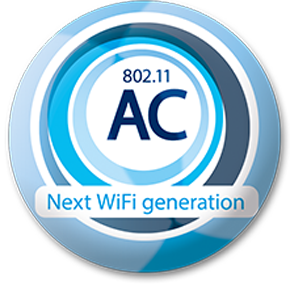 802.11ac offers up to 1.75Gbps combined data rate, which has become mandatory in most businesses. Usually you have to perform a costly and time consuming wireless site survey and re-design of the network with more access points (APs) if migrating from 802.11g or 802.11n to the faster and more reliable 802.11ac wi-fi standard. Save9 offers a one-for-one replacement upgrade service - in many cases performing a phased migration of wi-fi access points, usually in one area at a time. For legacy wireless networks we occasionally need to replace your wireless controller first - however the latest cloud computing technologies are empowering customers to reduce their capital expenditure on wi-fi upgrades and deploy a cloud-based hosted wireless controller from Save9.
Cloud Wireless Controllers?
Cloud-based wireless controllers are based on virtual server technologies - rather than a traditional physical appliance that needs to plugged-in at your site. This makes wi-fi controllers easier to afford, setup, upgrade, increase (or decrease) capacity and provide fail-over too. On-premise based Wi-Fi Access Points (APs) are still of course necessary. Each Wi-Fi access point then securely authenticates online directly with your cloud-based dedicated wireless controller - managing internet access for different times of the day, your traffic management rules (who can access what, when and how fast), logging for legislative reasons, secure authentication and guest wi-fi services (e.g. hotels, public spaces and for your visitors).
Wi-Fi for Marketing
Save9 offers corporate and hospitality businesses a fully customised and branded wireless guest authentication service. Guest Wi-Fi login pages are created with your organisation's branding plus your latest notifications or special offers that help inform or even generate more revenue. You can automatically capture mobile phone numbers and email contact details for follow-on marketing with everyone that uses your wireless service and we can retrofit our service into any wireless system where there is a
Dell SonicWALL
Network Security Appliance. The
MAC Address
(a unique identifier on every device or computer that connects to a network) "by pass" feature is designed for employees using your network - so they don't have to go through the wireless guest authentication process every time they connect to wi-fi.
Marketing
Turn your wireless hotspot into a marketing tool by collecting data from users and presenting them with offers based on the collected data. The custom splash screen during login allows for more than one authentication method at the same time and the splash screen is the pefect one-to-one advertising platform.
Authentication Methods
Policy Page Login: Users accept policy
User Login: Users login with own account
SMS Login: Users get token sent by SMS
Email Login: Users get token via email
Token Login: Users via thermal print out
Facebook Login: Users login via Facebook
Customisation Options
Add adverts or offers with built-in editor
Utilise form fields for capturing data
CSS web style sheets match your website