IoT Wireless Sensor Network solutions from Save9
An IoT (Internet of Things) Wireless Sensor Network (WSN) refers to a group of spatially dispersed and dedicated sensors for monitoring, and recording the physical conditions of the environment, and collectively pass on such data through a wireless network to a internet-based location. WSNs measures the environmental conditions like temperature, sound, pollution levels, humidity, wind speed and direction, pressure, etc.
The nine Libelium Wireless sensor network (WSN) models available from Save9 provide the same quality and accuracy as traditional wired measurement systems, but with increased flexibility (more than 60 sensor types to choose from), lower costs, and the ability to create smart WSN systems with Save9 cloud and wireless networking services.
There are multiple radio deployment options for the Waspmote Plug & Sense! smart devices in order to communicate between the sensor nodes and the Gateway. ZigBee and 802.15.4 are commonly used in order to create tree and star topologies. Wi-Fi can be used to connect with any Wi-Fi AP (Access Point) while the 3G/GPRS radio can be used in order to send the sensor data directly to the Save9 Cloud without using an intermediate Gateway.
The complete list of available radio transmission technologies we use are:
WiFi and mmWave (2.4GHz, 5GHz, 6GHz Upper, 6GHz Lower, 24GHz, 60GHz)
LoRaWAN RF (868MHz)
LoRaWAN RF (900MHz)
3G/4G/5G Mobile Data
Bluetooth Low Energy (2.4GHz)
Save9 has the necessary skills and expertise to deploy a complete urban, rural, industrial or maritime Wireless Sensor Network (WSN) IoT (Internet of Things) project including Radio Mast Installations and Internet Connectivity for your smart remote monitoring and data collection.
Smart Cities Sensor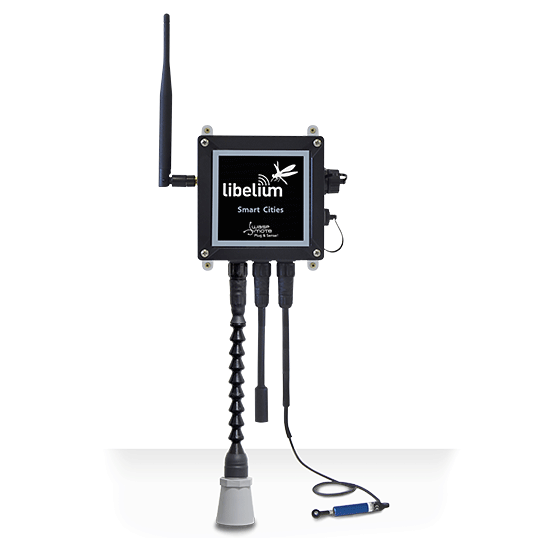 Smart Cities is specially designed to cover applications in urban spaces such as the air quality, waste container levels, structural health and noise maps. Sensors:
Dust concentration
Ultrasounds
Noise
Linear displacement of cracks
Temperature
Humidity
Luminosity
Smart Water Sensor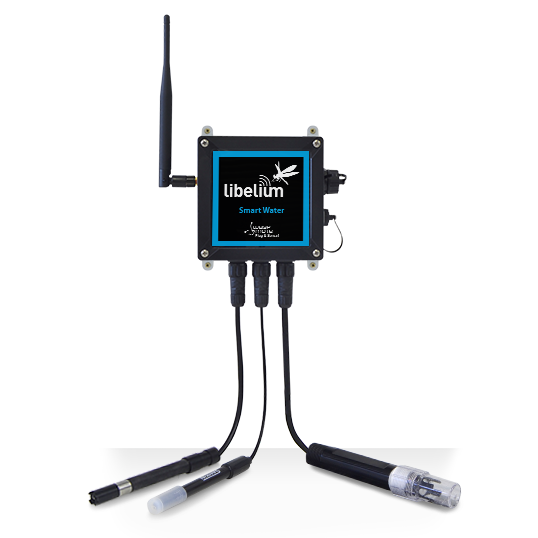 Smart Water provides sophisticated monitoring of water quality and environmental variables in rivers, lakes and the sea. Sensors:
pH
Oxidation-Reduction Potential (ORP)
Dissolved Oxygen (DO)
Conductivity
Dissolved Ions (Na+, Ca+, F-, Cl-, Br-, I-, Cu2+, K+, Mg2+, NO3-)
Temperature
Turbidity
Smart Security Sensor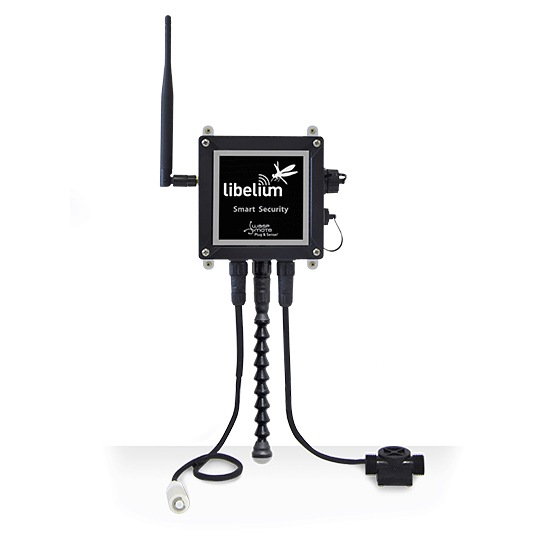 Smart Security is focused on the detection of perimeter intrusions and on events such as water presence and door and window openings. Sensors:
Presence
Hall effect
Water presence
Liquid level
Liquid flow
Temperature
Humidity
Luminosity
Radiation Control Sensor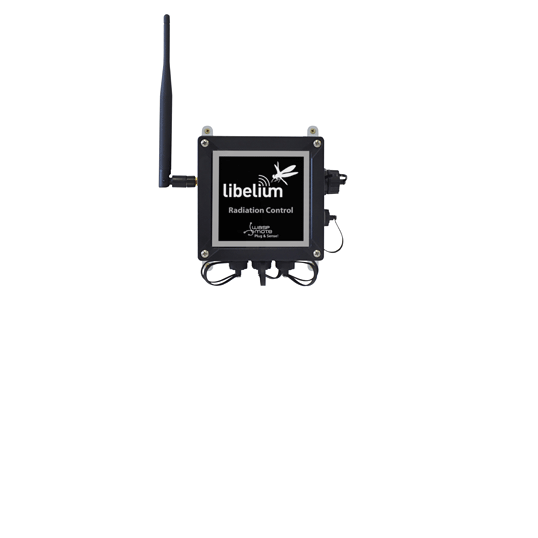 Radiation Control is designed to measure radioactivity levels. It includes a Geiger sensor which detects gamma and beta particles. Sensors:
Geiger tube [ ß ] (Beta)
Geiger tube [ γ ] (Gamma)
Ambient Control Sensor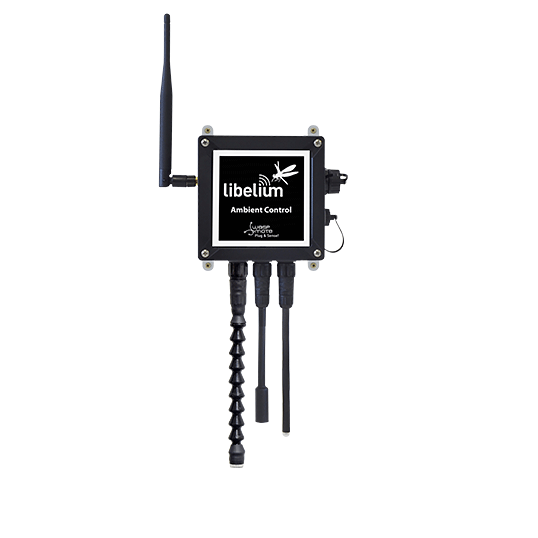 Ambient Control allows to you to create basic environment parameters monitoring using the temperature, humidity and luminosity sensors. As well as this, movement and vibrations can be measured by the internal accelerometer. Sensors:
Temperature
Humidity
Luminosity (LDR)
Luminosity (Luxes Accuracy) for Smart Lighting
Smart Metering Sensor
Smart metering allows to perform electricity measurements and control in tank levels. Sensors:
Current
Ultrasounds
Liquid level
Liquid flow
Temperature
Humidity
Luminosity
Smart Agriculture Sensor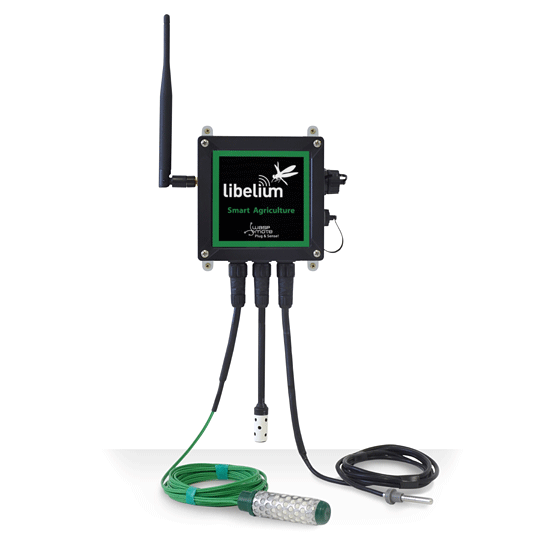 Smart Agriculture is designed to perform monitoring of plants and their cultivation in both urban or rural settings - example deployments include irrigation monitoring on golf courses and parks, farm crop management and greenhouse control. Sensors:
Soil moisture
Soil temperature
Leaf wetness
Solar radiation
Atmospheric pressure
Stem diameter
Anemometer
Wind vane
Pluviometer
Ambient temperature
Humidity
Smart Air Sensor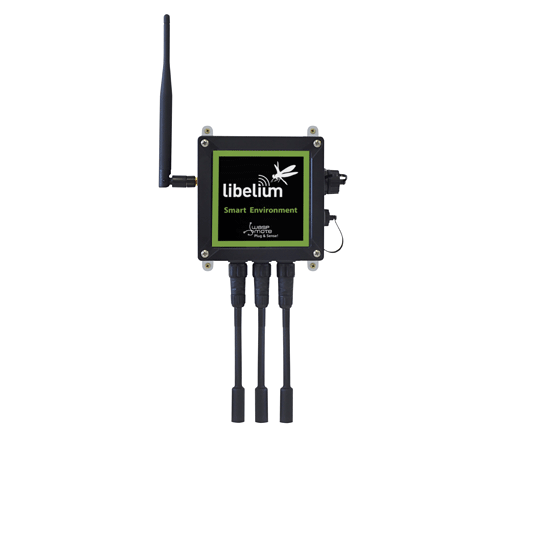 Smart Air Environment is focused on projects in which air quality needs to be measured. Sensors:
Presence
Carbon Monoxide (CO)
Carbon Dioxide (CO2)
Oxygen (O2)
Methane (CH4)
Hydrogen (H2)
Ammonia (NH3)
Hydrogen Sulfide (H2S)
Nitrogen Dioxide (NO2)
Ozone (O3)
Hydrocarbons (VOC)
Isobutane
Ethanol
Toluene
Temperature
Humidity
Pressure atmospheric